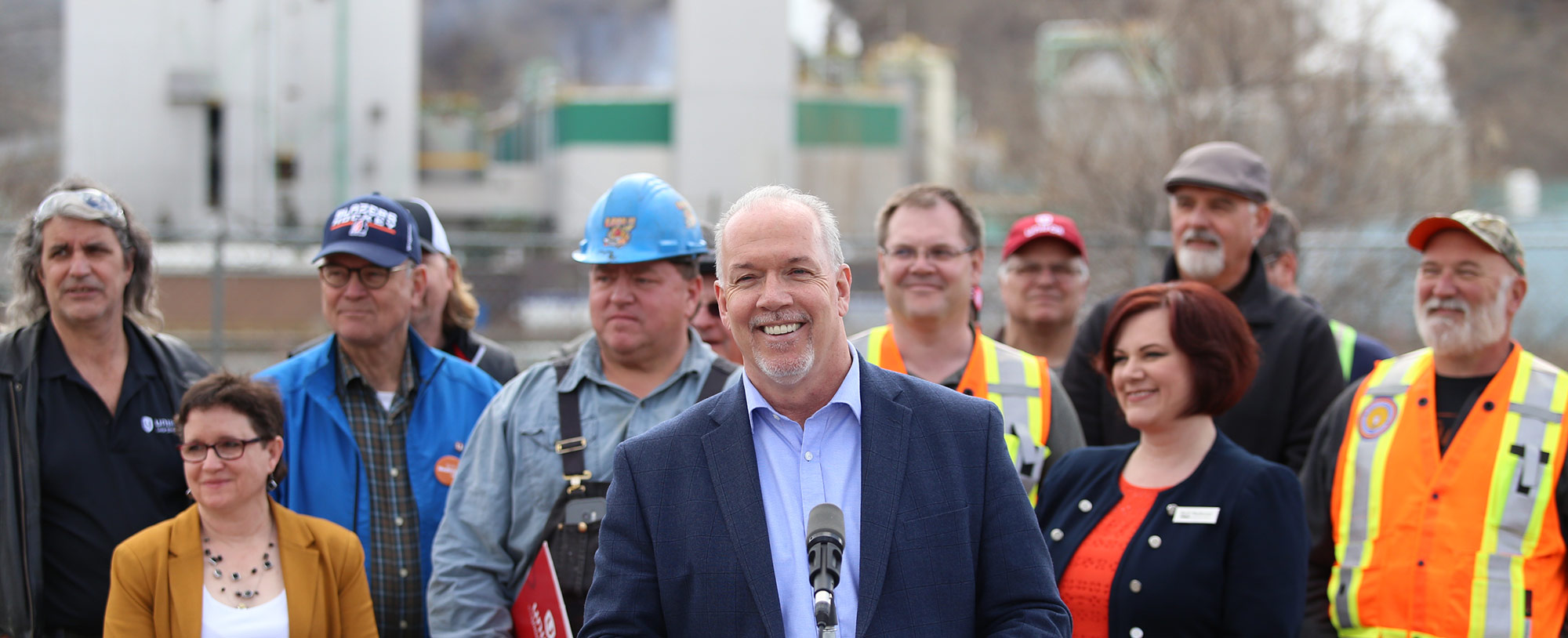 Good jobs and a sustainable economy
When it comes to BC's economy, Christy Clark and the BC Liberals aren't working for you.
People across BC are working harder and falling behind. Costs are going up and their wages are stagnant. Mills are closing and our province is losing jobs. But because the wealthiest British Columbians are doing just fine, Christy Clark says that's a strong economy.
For John Horgan's BC NDP, a strong economy is when everyone is doing better. Where life gets a little easier each month, not harder. Where people like you are rewarded for working hard, with good wages, job security and a safe place to work.
what they're saying
"I've been working in the forestry industry for over 10 years. I like John Horgan's idea of bringing back sawmills so people like myself don't have to travel for work. The wood and labour is here in BC, we just need to bring the two together."

Lawrence Watson

Gitxsan Nation, near Terrace

"With B.C.'s carbon pollution going up and this rise projected to continue, it is very encouraging to see a strong commitment to get B.C. back on track to meeting its emissions reduction goals."

Josha MacNab

BC director at the Pembina Institute

"I work in the tech sector, as a Principal Software Engineer, yet the high cost of living has forced my family to move 4 times in 2 years. By investing in training programs and taking real action on housing affordability, the BC NDP will give local firms a leg up, ease recruitment and retention of the best talent here in BC."

Raza Mirza

Vancouver

"After my second child, I couldn't find affordable full time childcare. I had to make the difficult decision to leave my job of eight years. The BC NDP's $10 a day childcare plan will let more women get back to work."

Amber Sadgrove

New Westminster
all the pieces
Creating 96,000 construction jobs
We will invest in infrastructure, creating 96,000 construction jobs while building new roads, school, hospitals, housing and public transit.
Building a sustainable economy
By protecting our environment and taking action on climate change, we'll create good jobs in every sector and every region of our province – for today and tomorrow.
Protecting our environment, creating jobs
Protecting the environment and creating jobs go hand in hand.
Ending the grizzly bear trophy hunt
Bear viewing creates more jobs and generates more money for our communities. It's time to end the grizzly bear trophy hunt.
Fuelling innovation in BC tech
With the right leadership, BC could become a global leader in technology and innovation. It's time to invest in our skilled workforce and growing entrepreneurial culture.
Renewing our forest industry
We'll put people to work by bringing back the 30,000 good forestry jobs Christy Clark's bad policies gave away.
Growing BC agriculture
We'll create thousands of good jobs in agriculture and food processing while growing our beer, wine, cider and spirits sector.
Creating safe, responsible mining jobs
We'll work with the mining industry to create and sustain jobs – safely.
Creating good jobs in manufacturing
As the manufacturing sector expands, we'll make sure it has the trained workers it needs.
Boosting the creative economy
John Horgan's BC NDP will work to make BC a global leader in arts, culture, film and TV.
Investing in tourism and recreation
We'll create thousands of tourism jobs by marketing BC as a destination to the world.
Safely developing natural gas
We'll make sure BC benefits from LNG opportunities by implementing four conditions.
Helping small businesses succeed
We'll help small businesses succeed by working directly with their owners.
Recognizing the changing workplace
We'll protect workers in precarious jobs and raise the minimum wage to $15 an hour so people are paid fairly in this changing economy.
Creating 96,000 construction jobs
After 16 years of neglect from Christy Clark and the BC Liberals, we need to restore, replace and repair schools, hospitals, roads and transit. In doing so, we'll create 96,000 real jobs and add $18 billion dollars in economic activity while helping us deliver the services people need.
Building strong communities
Quality schools, good hospitals, recreation centres and transit options are all necessities of communities large and small. We'll invest in all corners of BC, making communities stronger, spurring economic growth and creating good jobs close to home.
Cutting commute times and reducing congestion
Building a better BC means getting you to and from work and school faster and safer. We'll invest in improving roads and in major new transit projects to reduce congestion, get cars off the road and reduce our impact on the environment.
Creating technology infrastructure and innovation centres
We'll partner with universities, colleges, technical institutions and businesses to build and fund specialized innovation centres in the interior and northern BC to make sure all regions of the province benefit from jobs and investment in the new economy.
Building partnerships to fund new infrastructure
Our plan to create 96,000 jobs includes funding partnerships with the federal government, First Nations, municipalities, pension funds, financial institutions and businesses.
Support our plan
Read More
Building a sustainable economy
Christy Clark and the BC Liberals choose to pit jobs against the environment. It shouldn't be that way.
We will take action to create tens of thousands of new, sustainable, permanent jobs while reducing BC's climate change emissions and growing the low-carbon economy.
Setting carbon reduction targets and meeting them
We will renew the Climate Leadership panel and work towards implementing their recommendations. Together, we'll put BC on a path to meeting our legislated 2050 greenhouse gas emission reduction target.
Creating good, sustainable jobs that lower our carbon emissions
From investing in reforestation, to building new rapid transit solutions, to a comprehensive clean energy program, the BC NDP will invest in the long-term success of our economy, while doing our part to fight climate change.
Making new carbon taxes predictable, fair and effective
We'll work to provide predictability for BC businesses and protect BC families from facing another hit on their pocketbook – while reducing our emissions.
Protecting our environment, creating jobs
British Columbians are proud to live in a beautiful province with clean air, land and water. We are blessed with incredible ecological diversity. It's part of who we are and the source of economic prosperity for communities across the province.
Protecting the environment and creating jobs go hand in hand. Wildlife viewing, recreational fishing and hunting and other eco-tourism activities add 40,000 jobs to our economy every year.
We'll protect species at risk by:
Bringing in an endangered species law.
Working with the federal government, South Okanagan communities and local First Nations to create a plan to protect a large number of endangered species.
We'll increase investment in parks and camping by:
Restoring funding for BC parks.
Hiring additional park rangers and conservation officers.
Building new campsites to catch up with current demand.
Putting BC residents first in line for campsite bookings.
We'll make environmental decisions you can trust, including:
Updating our environmental assessment legislation and processes.
Respecting the rights of First Nations.
We'll protect clean, safe drinking water and ensure healthy communities by:
Recognizing the right to clean, safe drinking water — and making a commitment to protect it.
Working with the federal government to improve drinking water quality.
Keeping cancer-causing chemicals out of our water supply.
Support our plan
Read More
Ending the grizzly bear trophy hunt
Our province is one of the few places on earth where grizzly bears still thrive. And the vast majority of British Columbians believe it's wrong to shoot these threatened creatures for sport.
It's not just wrong, it's bad for the economy. Grizzly bear viewing brings in more jobs, and more economic benefit, than trophy hunting.
John Horgan's BC NDP government will do what's right and ban the grizzly bear trophy hunt. We'll also make permits for other kinds of hunting more fair for BC residents.
Fuelling innovation in BC tech
We'll support growth in the tech sector with strategic investments in infrastructure and developing and attracting world-class talent. We'll also work with BC's excellent software firms to deliver major development projects for government.
We'll develop and attract world-class talent by:
Investing $100 million to expand technology-related post-secondary programs and match investments with tech-related co-op programs.
Appointing a Chief Talent Officer.
Ensuring every child in BC is given the opportunity to learn how they can change the world by learning to code.
We'll create better access to capital by:
Strengthening existing venture capital and tax credit programs.
Re-invigorating the Innovative Clean Energy (ICE) Fund to boost investments in groundbreaking new energy technologies.
Streamlining and simplifying incentive programs and credits.
We'll build local markets for IT and software development by:
Bringing in a cap on the value and the length of government IT contracts.
Making government IT and software development procurement work better for companies that hire locally and have a local supply chain.
Partnering with local governments in northern and rural communities, we will ensure local digital infrastructure is accessible.
Renewing our forest industry
Forestry is the anchor industry in many of our communities. The BC Liberals have cost BC 30,000 direct forestry jobs and countless more indirect jobs. They have exported raw logs at an unprecedented pace and undermined the future of the industry by failing to keep up with reforestation.
We'll work hard to bring sustainable jobs back and fight for fair trade deals for our softwood lumber.
We'll expand markets for BC wood products, including:
Ensuring sure innovative BC wood products are used in infrastructure projects, like schools, hospitals and rental housing construction.
Offering incentives to BC builders that use engineered wood products and to BC companies starting innovative wood manufacturing operations.
Working with industry, local governments and First Nations to create new manufacturing jobs.
Partnering with colleges and universities to train designers, engineers and tradespeople.
We'll create BC jobs with BC logs by:
Working with BC's forest industry to find fair and lasting solutions that keep more logs in BC for processing.
Investing in the future by expanding investments in reforestation across BC.
Standing up for BC wood products in softwood lumber negotiations with the United States.
Growing BC agriculture
BC's agriculture sector provides food and employs people from Fort Nelson to Saanich. But under the BC Liberals, our agricultural land is threatened and the industry is at risk. We have a long-term plan to keep farms and farmers in BC and open up new opportunities by developing, processing and exporting new food and beverages.
Grow BC, Feed BC, Buy BC
Grow BC will help young farmers access land and focus on exciting initiatives like ensuring our bee populations stay healthy and supporting fruit and nut growers.
Under Feed BC, government facilities will increase their use of BC-grown and processed foods.
By bringing back an enhanced Buy BC marketing program, we will help local producers market their products.
We'll encourage leadership and innovation by:
Partnering with growers, processors, colleges and universities to develop a BC Food Innovation Centre to innovate in the processing, packaging and marketing of BC food products.
We'll expand markets for vintners, brewers and craft distillers by:
Establishing a BC beer, wine and spirits advisory panel to grow and strengthen the industry.
Working with local producers to expand our markets and help market our products.
Creating safe, responsible mining jobs
British Columbia's mining sector is an important job creator across our province. John Horgan's BC NDP will work with communities and the mining industry to create and sustain these vital jobs by:
Getting to good decisions faster by assessing mining applications with an improved, properly resourced approvals process.
Increasing exploration and development with continued support for the mining flow-through share tax credit and the mineral exploration tax credit.
Establishing a BC Mining Jobs Task Force to make jobs secure and mines viable as commodity prices fluctuate.
Introducing an independent oversight unit to make the industry safer.
Creating good jobs in manufacturing
Manufacturing provides 180,000 BC jobs, is our largest source of exports and the fourth largest contributor to our GDP. BC companies are proving every day they are and can be successful in manufacturing – we'll make sure they have the support they need. John Horgan's BC NDP will make this happen by:
Partnering with manufacturers to develop a multi-year growth strategy so the sector can meet its staffing needs.
Working with colleges, technical institutes and other post-secondary institutions to connect students with manufacturers for training.
Boosting the creative economy
BC artists make our communities interesting, vibrant and beautiful – and they're huge contributors to our economy. Film and television are major employers throughout our province. We'll help both these industries thrive and grow by:
Getting BC's writers working by expanding our film labour tax credit to include them.
Making our industry more competitive by making sure BC film and TV makers get their fair share of federal investments.
Doubling the province's investment in the BC Arts Council over four years.
Providing space for BC artists to create by investing in an arts infrastructure fund.
Supporting BC musicians, publishers, authors, artists, digital media, indigenous storytellers and the film and TV industries by increasing investments in Creative BC.
Investing in tourism and recreation
Whether it's Aboriginal tourism, adventure tourism, wilderness tourism or bear viewing, our province has a lot to offer. BC tourism businesses bring people from around the world to our province. We'll champion this vital industry throughout the world and create thousands of jobs by:
Including representatives of BC's tourism sectors on all trade missions.
Ensuring tourism impacts are considered in all significant land use decisions.
Confirming that all short-term rental operators are contributing fairly to tourism marketing programs.
Banning the grizzly bear trophy hunt and help promoting wildlife viewing instead.
Creating more camping sites, and hiring more park rangers and conservation officers.
Safely developing natural gas
Christy Clark made her entire 2013 election campaign about LNG. Four years later, Christy Clark and the BC Liberals haven't delivered a single major LNG project.
While LNG can still represent a significant opportunity for BC, it won't happen under Christy Clark. To make sure BC benefits, we will require LNG projects meet four conditions:
Projects must offer jobs and training for British Columbians, especially jobs for local people.
The people of BC must get a fair return for our resources.
Projects must secure full partnerships with local First Nations.
Projects must complete a made-in-BC environmental assessment and respect our commitments to combating climate change.
Helping small businesses succeed
More than 80 per cent of small business owners are finding it more expensive to run their businesses and over 70 per cent say that the high cost of living is making it hard to find workers.
We'll listen to the concerns of small business owners and work hard to help them succeed by:
Reducing the small business tax rate from 2.5% to 2.0%.
Creating a small business task force to strengthen the small business sector.
Ensuring small businesses can get loans through credit unions.
Recognizing the changing workplace
Under Christy Clark and the BC Liberals, many people are working multiple jobs to make ends meet. Technology is changing the way people work, but it shouldn't change the way that workers are protected. A BC NDP government will ensure employment laws and standards match the realities of working today.
Whether people are working remotely or in an office they need to be treated fairly and protected from workplace injuries. Services to support workers need to be universal, accessible and affordable and managed in a way to include workers who don't have traditional workplace relationships. The BC NDP will make this happen by:
Increasing the minimum wage to $15 an hour over our first term, then tie it to inflation so that workers and businesses have certainty for the future.
Ensuring employment standards are applied evenly, and that they are enforced in a way that recognizes the changing nature of the workplace.
Enforcing workplace safety rules and making workplace safety a priority.
Support our jobs plan
Add your name to support our plan for good jobs and a sustainable economy.