Five times Christy Clark and her big donors sold out our environment.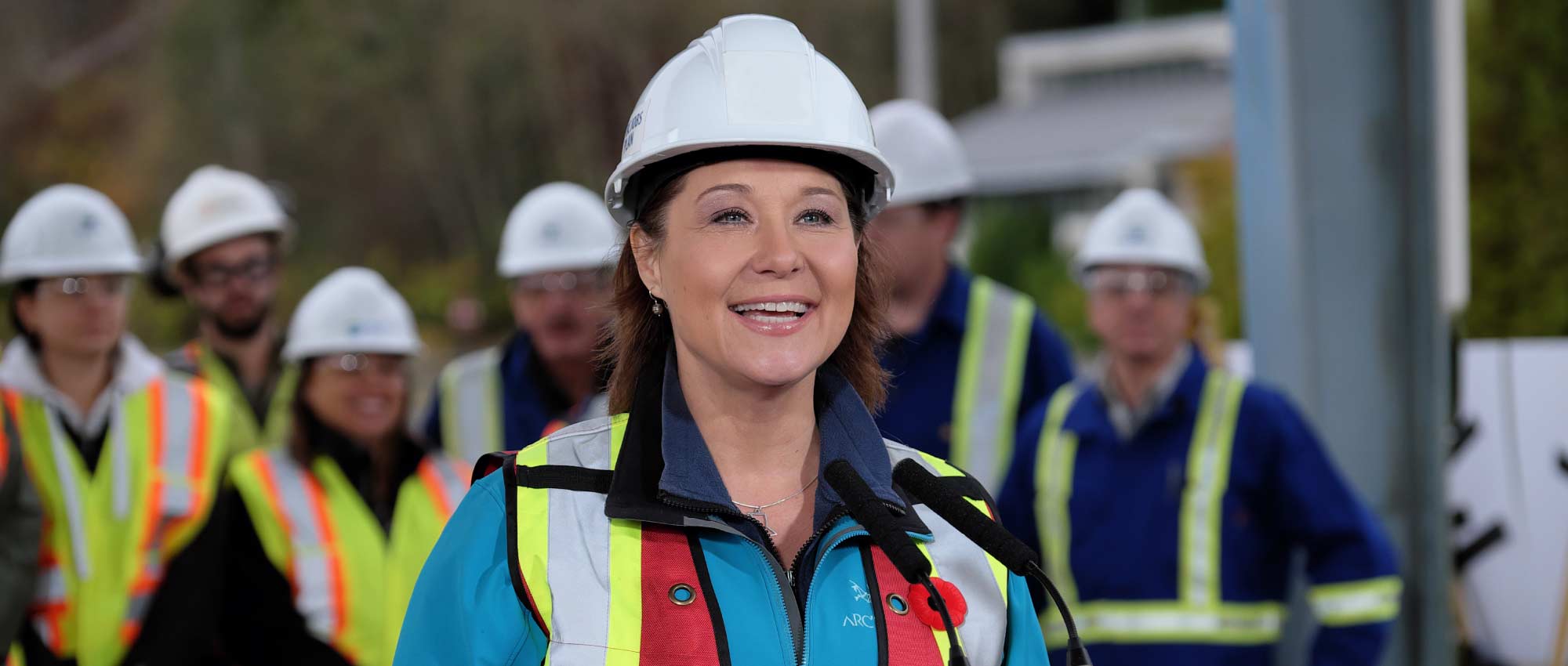 On Earth Day, Christy Clark wants you to believe she's a champion for BC's environment. She really isn't.
There's been a lot written already about Christy Clark and the BC Liberals and their network of huge donors. That they've donated more than 100 million dollars to the party since 2005. That one in every five dollars raised comes from just 30 companies. That the companies who donate to her party are more likely to receive government contracts or favourable treatment.
We've seen that play out in other ways that her government deals with important issues, housing in particular, but nowhere is that distinction more clear than her record on the environment. Here are five of the most damning examples:
1 - Letting Imperial Metals & Murray Edwards off with no fines or penalties for the worst mining disaster in Canadian history.
In August 2014, a retaining wall on a tailings pond at Mount Polley mine collapsed, spilling 24,000,000 litres of toxic sludge and water near the small BC community of Likely. Over the next two years, an investigation determined that Imperial Metals, the owner of the mine, had been warned repeatedly since 2007 about the structural integrity of the wall – and did nothing about it.
In the end, BC taxpayers covered the $40 million dollar cleanup bill for the spill, while Imperial Metals received no fines or penalties for their failure to prevent it. The mine was allowed to restart operations Just two weeks ago, Mount Polley mine received permission to start releasing tailings into Shuswap lake. It is effective immediately until 2022.
Imperial Metals and Murray Edwards have donated $1.5 million to the BC Liberals. This includes the million-dollar fundraising dinner Murray Edwards personally organized for Christy Clark at Calgary's Petroleum Club.
2 - Changing laws so oil and gas companies can drill and build pipelines in BC provincial parks.
While Christy Clark was telling the media and the world that any new pipeline would have to meet BC's five conditions before she'd allow it to be built, the BC Liberal government was working quietly behind the scenes to make sure that when those permissions came, those drilling wells and pipelines would be ready for construction as fast as possible.
The 2014 amendment of the BC Parks act gives explicit permission to oil and gas companies to build pipelines and drill in BC provincial parks.
Oil and gas companies (Enbridge, TransCanada and Spectra, among others) have donated $2,028,705.32 to the BC Liberals since 2005.
3 - Selling BC water to Nestle for just $2.25.
You read that number right. In 2015, as British Columbia sweltered under drought conditions, the BC Liberal-led government quietly signed an agreement with Nestle to bottle and sell BC water. Under the agreement, Nestle is allowed to bottle millions of litres of BC water that they can sell in grocery and convenience stores for any price they want.
What does Nestle pay for that privilege? Just $2.25 for one million litres.
The BC Liberals received $18,015 in donations from Nestle's BC lobbyist Bruce Rozenhart and his company Counterpoint Communications.
4 - Reopening the Grizzly bear trophy hunt.
When the BC NDP was last in power, it banned the unnecessary and cruel trophy hunt for Grizzly Bears.
When they took power, the BC Liberals re-opened it province-wide. Since then, trophy hunters from around the world have paid members of the BC Guide Outfitters association thousands of dollars each for the chance to come to BC and shoot animals, including grizzly bears.
Since 2005, the BC Liberals have received $112,625 in donations from the BC Guide Outfitters and their members. Darren DeLuca, a Guide Outfitter on Vancouver Island who auctioned off a $30,000 trip to hunt a BC black bear at a Texas-based trophy hunting conference, is even running for the BC Liberals as their candidate in Alberni-Pacific Rim.
5 - Taking $700,000 in donations from Kinder Morgan – and then approving their pipeline proposal.
When it comes to environmental projects in BC, there aren't many that are more contentious (and less popular) than Kinder Morgan's proposed expansion to its TransMountain pipeline. Christy Clark's government has taken dozens of meetings with Kinder Morgan lobbyists and accepted $2,422,658.44 in donations from them.
It's no wonder that when it came time for the BC government to sign Kinder Morgan's permits, Christy Clark and the BC Liberal government were more than happy to announce that their conditions had been met (they hadn't) and the project could proceed.
While Kinder Morgan is still facing legal challenges from BC First Nations and environmental organizations, one of their former lobbyists has been welcomed into the BC Liberal family. Gabe Garfinkel is running as the BC Liberal candidate in Vancouver-Fairview.
Clark's environmental record is a disgrace. But repairing the damage she and her corporate friends have done is not impossible.
The first and best place to start is on May 9. It's time to come together and vote for John Horgan's BC NDP to clean up our environmental record and get BC back on track.