Focused on you: Meet John Horgan's new Cabinet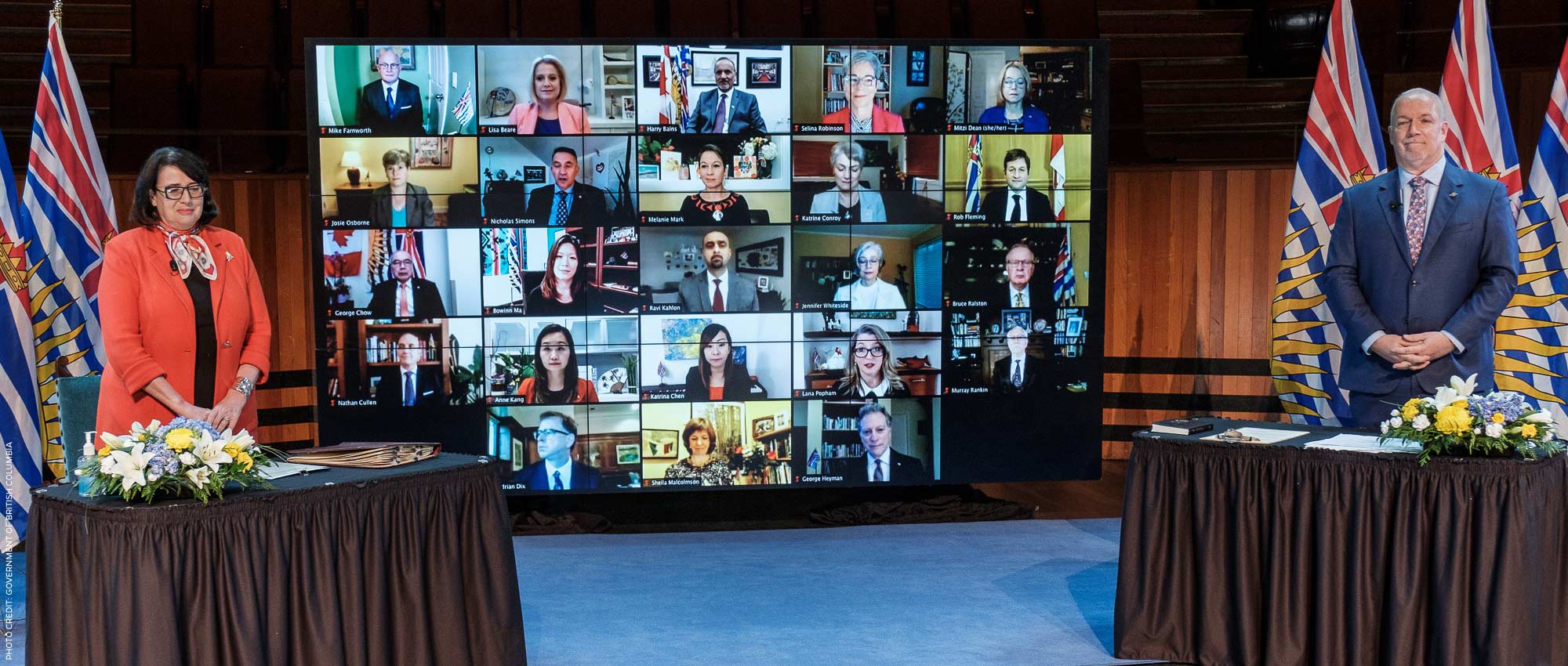 Today Premier John Horgan announced the members of his new cabinet — an experienced, diverse group of New Democrats dedicated to the fight against COVID-19.
Together these MLAs they'll continue our government's response to the pandemic, providing better health care for people and families, delivering affordability and security, and investing in good jobs and livelihoods in a clean-energy future.
There are new faces in Cabinet, and some familiar ones, too. They hail from many corners of BC and have diverse backgrounds and experience — just like the British Columbians who elected them. Like in 2017, Cabinet is gender-balanced, with an equal number of men and women.
The Cabinet and Parliamentary Secretaries are as follows:
Premier:John Horgan
Attorney General (and Minister Responsible For Housing): David Eby
Minister of Advanced Education and Skills Training: Anne Kang
Minister of Agriculture, Food and Fisheries:Lana Popham
Minister of Citizens' Services:Lisa Beare
Minister of Children and Family Development: Mitzi Dean
Minister of Education: Jennifer Whiteside
Minister of Energy, Mines and Low Carbon Innovation (and Minister Responsible for the Consular Corps of British Columbia): Bruce Ralston
Minister of Environment and Climate Change Strategy (and Minister Responsible for Translink): George Heyman
Minister of Finance: Selina Robinson
Minister of Forests, Lands, Natural Resource Operations and Rural Development: Katrine Conroy
Minister of Health (and Minister Responsible for Francophone Affairs): Adrian Dix
Minister of Indigenous Relations and Reconciliation: Murray Rankin
Minister of Jobs, Economic Recovery and Innovation: Ravi Kahlon
Minister of Labour: Harry Bains
Minister of Mental Health and Addictions:Sheila Malcolmson
Minister of Municipal Affairs:Josie Osborne
Minister of Public Safety and Solicitor General: Mike Farnworth
Minister of Social Development and Poverty Reduction: Nicholas Simons
Minister of Tourism, Arts, Culture and Sport: Melanie Mark
Minister of Transportation and Infrastructure: Rob Fleming