"I will do my level best" - read Premier John Horgan's victory speech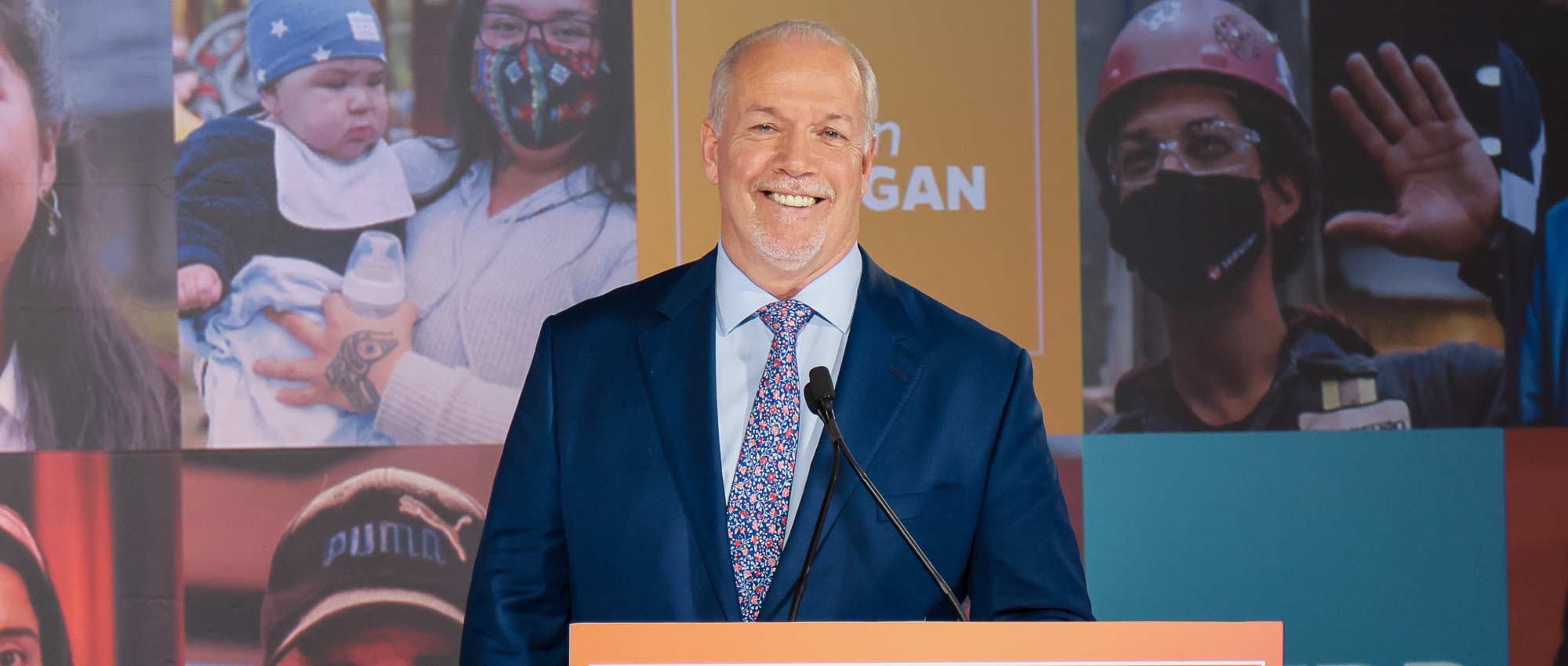 On Saturday night, British Columbians made a decisive choice about their next government, electing a BC NDP majority government led by John Horgan.
John Horgan spoke to the media late in the evening about the election, his victory and what comes next. In case you missed it, we're pleased to share the text with you here.
"It has been an honor and a privilege for the past three and a half years to serve British columbians, to make sure we can make life better for everyone.
I want to make sure that government works for you, each and every day. That is my passion. That is my calling. That's why I get up every morning, and I'm grateful for the returns tonight and the final count that's yet to come, giving the opportunity to me and my colleagues to continue our work on your behalf.
COVID-19 has turned our lives upside down. None of us expected to be here. None of us expected that we would have to endure the challenges we've had over the past number of months, but we are far from out of the woods. COVID-19 will be with us for the foreseeable future. And we need to focus on making sure that we're keeping ourselves safe, our family safe, and our community safe.
The challenges we have are daunting, but I believe that if we focus on the things that matter to British columbians, the things that matter to people, we will get through this.
Let's focus on building back our education system by investing in schools and the people that work in them by making sure our seniors care facilities have the staff that they need to care for our seniors in their latter years.Let's keep building childcare all across British Columbia, so that families can fully participate in the economy to make their lives stronger, and to make their community stronger as well.
For me, this comes down to a few simple things.
I was raised by a single mom who told me to do my best every day, my level best. I say that a lot. She said it a lot to me. "All you have to do, John, is your level best."
I commit to all British columbians, for the next four years, I will do my level best to make sure your lives are better, more affordable, and the challenge that you face can be overcome, if we do it together.
Thank you so very very much to many, many people who voted for NDP candidates this evening and as I said, to all of those who participated, a debt of gratitude from all of us for stepping up in this extraordinary time.
Thanks so much. Let's get back to work."