It's By-Election Day: Cast your ballot for Ravi, Joan, and the BC NDP!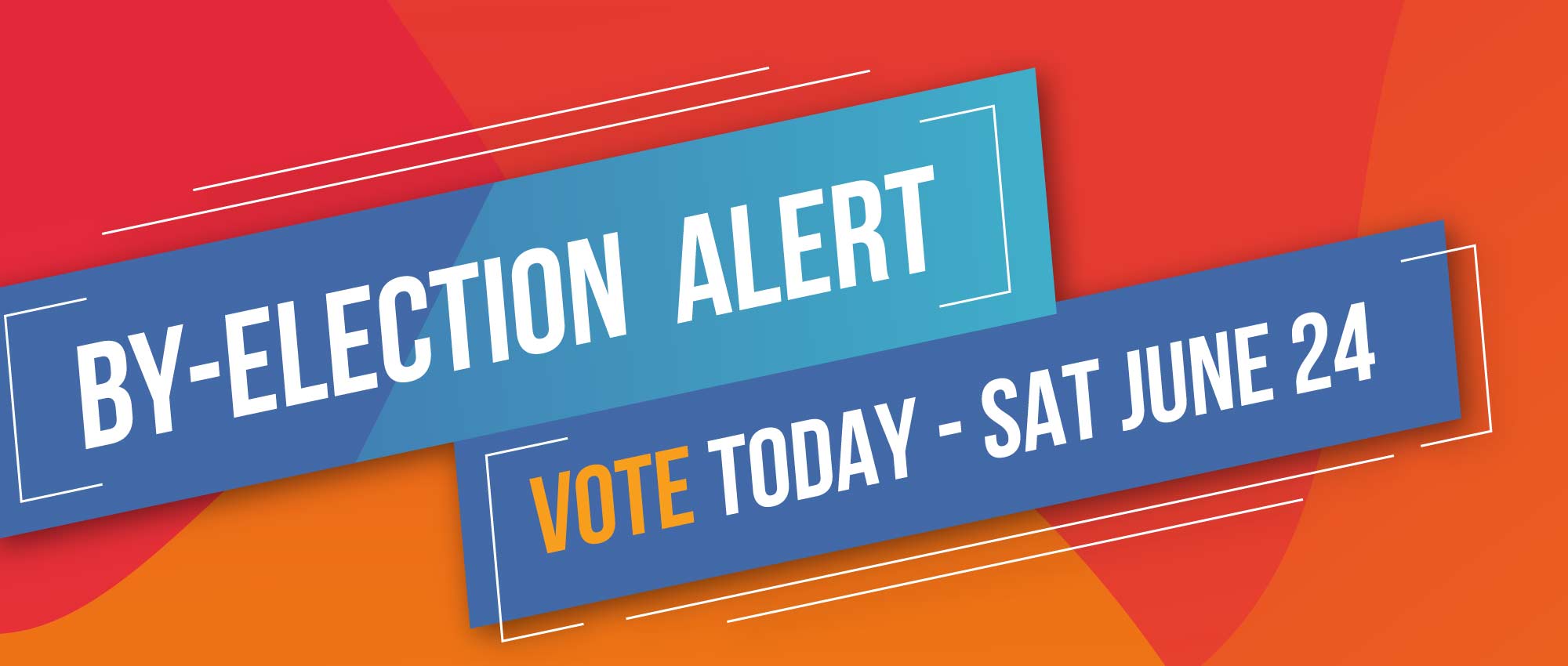 After a fast-paced 28 day campaign, today is election day in Vancouver-Mount Pleasant and Langford-Juan de Fuca.
We know it can be tempting to sleep in on a Saturday morning, but if you live in these two constituencies — and you haven't voted already — it's more important than ever for New Democrats to head to the polls to support Joan Phillip in Vancouver-Mount Pleasant or Ravi Parmar in Langford-Juan de Fuca.
There are plenty of polling places where you can pop in and cast your ballot — and they're open from 8am to 8pm.
It's fast, easy, and one of the most important things you can do to support our democracy.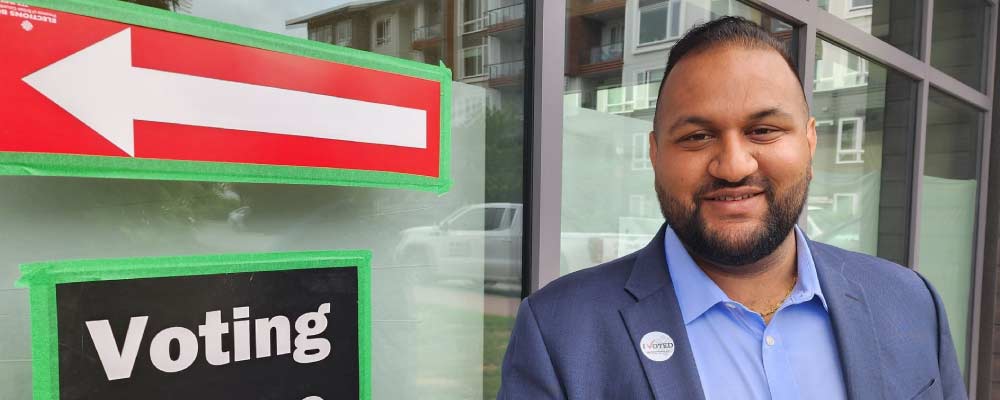 If you live in Langford-Juan de Fuca, where's where you can vote on election day for Ravi Parmar and the BC NDP:
In Sooke
SEAPARC Leisure Complex, 2168 Phillips Rd
Juan de Fuca Area Services Building, 3-7450 Butler Rd
Shirley Community Hall, 2795 Sheringham Point Rd
East Sooke Community Hall, 1397 Copper Mine Rd
In Langford
Crystal View Elementary School, 2662 Silverstone Way
Four Points Sheraton, 829 McCallum Rd
Happy Valley Elementary School, 3291 Happy Valley Rd
The Forge Church, 2612 Sooke Rd
Willway Elementary School, 2939 Mt Wells Dr
District Electoral Office/Crossing at Belmont, 110-955 Reunion Ave *until 4 p.m. only*
In Port Renfrew
Port Renfrew Community Centre, 6638 Deering Rd
In Highlands
Highlands Community Hall, 729 Finlayson Arm Rd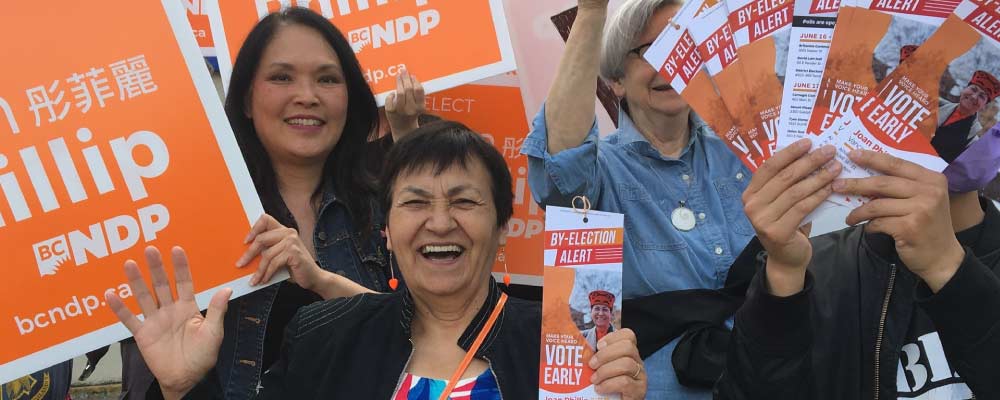 If you live in Vancouver Mount Pleasant, here's where you can vote for Joan Phillip and the BC NDP:
Britannia Community Centre Gym C, 1661 Napier St
Carnegie Community Centre, 401 Main St
Charles Dickens Elementary School, 1010 E 17th Ave
Grandview Elementary School, 2055 Woodland Dr
International Village Mall, 88 W Pender St
Kivan Club - BGC South Coast BC, 2-2875 St George St
Mount Pleasant Elementary School, 2300 Guelph St
Queen Alexandra Elementary School, 1300 E Broadway
RayCam Co-operative Centre Gym, 920 E Hastings St
Strathcona Community Centre, 601 Keefer St
Tyee Elementary School, 3525 Dumfries St
District Electoral Office, 615-369 Terminal Ave *until 4 p.m. only*
What do you need to bring so that you can exercise your right to vote?
There are plenty of ID options including:
A BC driver's licence, or
A BC Identification Card (BCID), or
A BC Services Card (with photo), or
A Certificate of Indian Status, or
Other documents or someone to vouch for you (see full list of options)
Once you're at a voting place, Elections BC poll workers will ensure you have all the information you need to cast your ballot.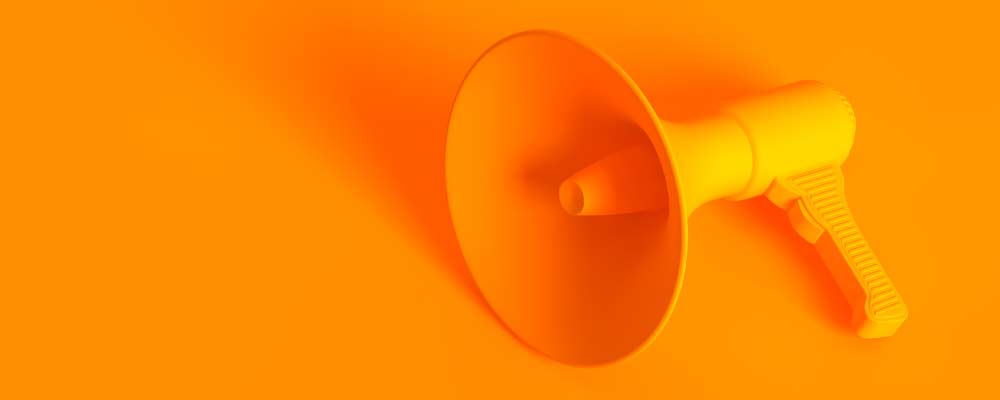 Voting in the by-election is one way you can make a big impact on your community and be part of our progressive movement to make BC better for everyone.
Have your say by voting. Let's support Joan and Ravi and make a big impact on our province!