Want to reinvigorate BC's forestry industry? Make more buildings like this.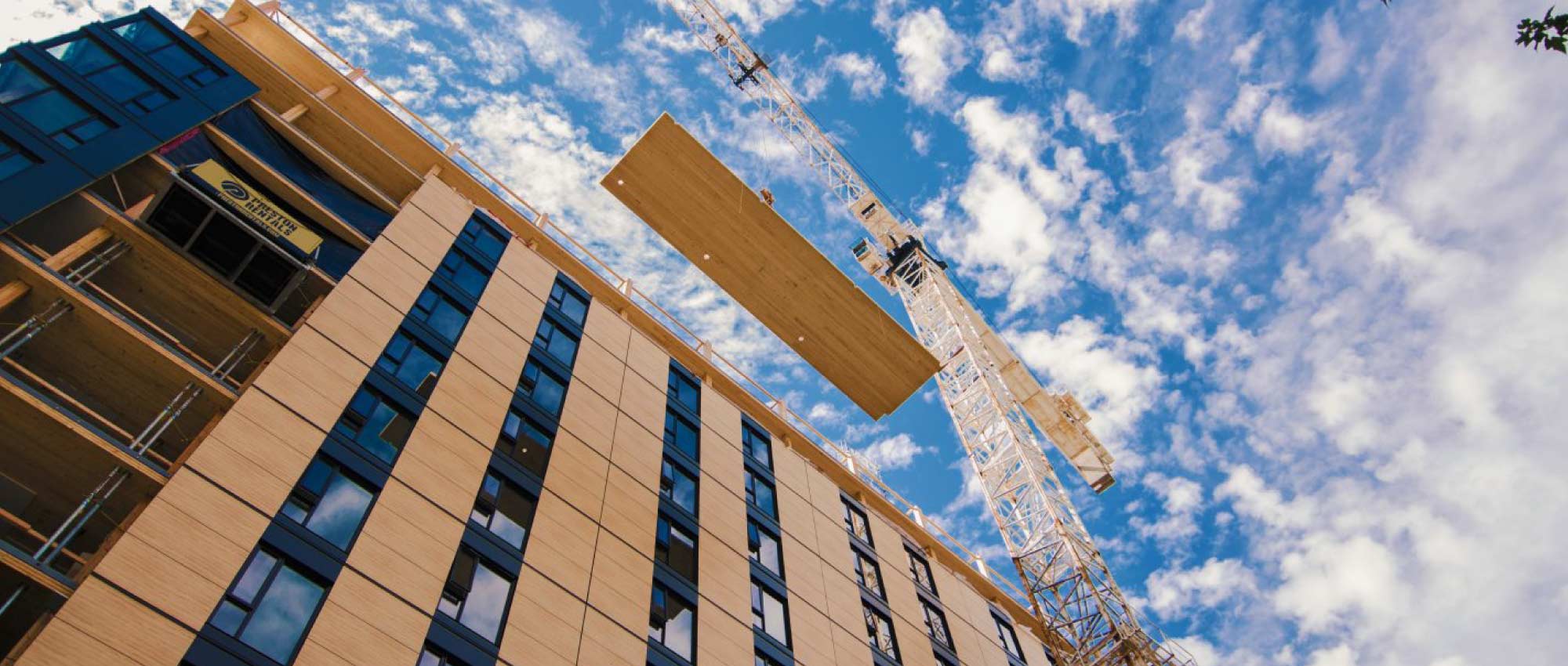 On September 14, 2016, construction workers at UBC set a world record.
That day construction workers finished installing the last beam at the new Brock Commons building. At 18 floors and 53 metres tall, it is currently the tallest wood frame building in the world. Even more remarkable? The bulk of it was built from BC wood.
Many modern buildings are made from a combination of concrete and steel. These materials are resilient, cost-effective, and trusted by architects and builders. But, they're not renewable.
Wood, on the other hand, is. And when it is assembled using technology like cross-laminated timber or glulam, it's just as strong as steel.
These two technologies have been around since the 1970s. They use super-strong adhesives to stick pieces of wood together into large, composite timber panels. In the case of Brock Commons, they are five layers thick, 2.85 metres wide and between 8-12 metres long. They're also fairly lightweight – only 3,500 kilograms each. And, most importantly – they can be prefabricated and assembled at a construction site with just one crane.
This type of wood construction is beautiful.
It's good for the environment.
Brock Commons used 1,300 tons of BC-sourced wood. According to engineers, it will keep two tons of CO2 out of the atmosphere.
And it's super fast to install.
It took only 9 weeks, start to finish, to install all the wood components in Brock Commons.
Brock Commons and UBC's Earth Sciences Building are pretty amazing, right? So, why isn't BC building more buildings like them?
That's a question John Horgan thinks it's time to answer.
Today he visited UBC and talked about the potential for BC's economy. He believes BC can revitalize its forestry sector and create thousands of good jobs by kickstarting a made-in-BC wood products manufacturing industry.
"In the last 16 years, Christy Clark and the BC Liberals have killed 30,000 forestry jobs and closed 100 mills, hurting people and communities across the province. When I look at Brock Commons, I see an opportunity to create thousands of good jobs in every corner of our province, and I'll work hard everyday to create those opportunities for people. By supporting and growing this kind of innovation, we can kickstart a made-in-BC manufacturing industry, create good-paying jobs for British Columbians and export BC's outstanding wood products all over the world." — John Horgan
In addition to championing the construction of buildings like Brock Commons, Horgan's forestry plan will:
Create jobs by ensuring more of the logs harvested in BC are processed here;
Create and protect jobs by fighting hard for a fair softwood deal;
Create jobs and ensure the future success of the industry by increasing investment in reforestation;
Reduce carbon pollution by increasing use of wood during construction in BC and around the world.
If you're passionate about BC forests, and harvesting them in sustainable ways that provide good-paying, family-sustaining jobs, then consider voting for the BC NDP on May 9.
If you want to know more about Horgan's plan to take action for BC forest jobs, you can download the PDF here.