Got your mail-in ballot? Here's how to fill it out.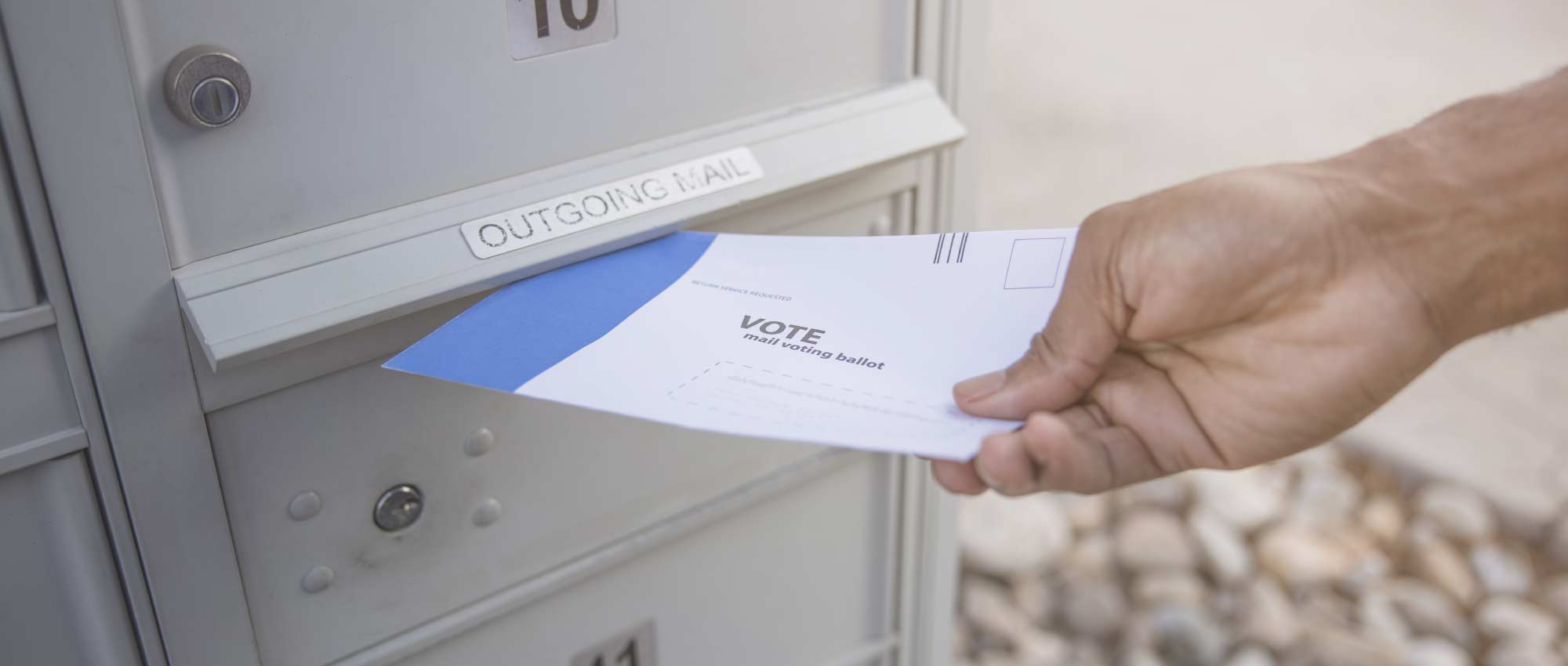 You've got your mail-in ballot – yay! Here's how you fill it out.
STEP 1
If you have a write-in ballot:
Print the name of your candidate (see the list below) or the party you're voting for. You can just write "BC NDP".
If you have a printed ballot:
Just mark an "x" or a checkmark in the circle next to the candidate of your choice.
Remember:
Do NOT write anything else on the ballot – do not sign it, either.
STEP 2
Follow the rest of the instructions on your "How to Complete your vote-by-mail package" to seal and return your ballot. Elections BC needs to receive mail-in-ballots before 8:00 pm (PT) on Saturday, October 24.
Your 2020 BC NDP Candidates:
Abbotsford-Mission: Pam Alexis
Abbotsford South: Inder Johal
Abbotsford West: Preet Rai
Boundary-Similkameen: Roly Russell
Burnaby-Deer Lake: Anne Kang
Burnaby-Edmonds: Raj Chouhan
Burnaby-Lougheed: Katrina Chen
Burnaby North: Janet Routledge
Cariboo-Chilcotin: Scott Andrews
Cariboo North: Scott Elliott
Chilliwack: Dan Coulter
Chilliwack-Kent: Kelli Paddon
Columbia River-Revelstoke: Nicole Cherlet
Coquitlam-Burke Mountain: Fin Donnelly
Coquitlam-Maillardville: Selina Robinson
Courtenay-Comox: Ronna-Rae Leonard
Cowichan Valley: Rob Douglas
Delta North: Ravi Kahlon
Delta South: Bruce Reid
Esquimalt-Metchosin: Mitzi Dean
Fraser-Nicola: Aaron Sumexheltza
Kamloops-North Thompson: Sadie Hunter
Kamloops-South Thompson: Anna Thomas
Kelowna-Lake Country: Justin Kulik
Kelowna-Mission: Krystal Smith
Kelowna West: Spring Hawes
Kootenay East: Wayne Stetski
Kootenay West: Katrine Conroy
Langford-Juan de Fuca: John Horgan
Langley: Andrew Mercier
Langley East: Megan Dykeman
Maple Ridge-Mission: Bob D'Eith
Maple Ridge-Pitt Meadows: Lisa Beare
Mid Island-Pacific Rim: Josie Osborne
Nanaimo: Sheila Malcolmson
Nanaimo-North Cowichan: Doug Routley
Nechako Lakes: Anne Marie Sam
Nelson-Creston: Brittny Anderson
New Westminster: Jennifer Whiteside
North Coast: Jennifer Rice
North Island: Michele Babchuk
North Vancouver-Lonsdale: Bowinn Ma
North Vancouver-Seymour: Susie Chant
Oak Bay-Gordon Head: Murray Rankin
Parksville-Qualicum: Adam Walker
Peace River North: Danielle Monroe
Peace River South: Cory Longley
Penticton: Toni Boot
Port Coquitlam: Mike Farnworth
Port Moody-Coquitlam: Rick Glumac
Powell River-Sunshine Coast: Nicholas Simons
Prince George-Mackenzie: Joan Atkinson
Prince George-Valemount: Laura Parent
Richmond-Queensborough: Aman Singh
Richmond North Centre: Jaeden Dela Torre
Richmond South Centre: Henry Yao
Richmond-Steveston: Kelly Greene
Saanich North and the Islands: Zeb King
Saanich South: Lana Popham
Shuswap: Sylvia Lindgren
Skeena: Nicole Halbauer
Stikine: Nathan Cullen
Surrey-Cloverdale: Mike Starchuk
Surrey-Fleetwood: Jagrup Brar
Surrey-Green Timbers: Rachna Singh
Surrey-Guildford: Garry Begg
Surrey-Newton: Harry Bains
Surrey-Panorama: Jinny Sims
Surrey South: Pauline Greaves
Surrey-Whalley: Bruce Ralston
Surrey-White Rock: Bryn Smith
Vancouver-Fairview: George Heyman
Vancouver-False Creek: Brenda Bailey
Vancouver-Fraserview: George Chow
Vancouver-Hastings: Niki Sharma
Vancouver-Kensington: Mable Elmore
Vancouver-Kingsway: Adrian Dix
Vancouver-Langara: Tesicca Truong
Vancouver-Mount Pleasant: Melanie Mark
Vancouver-Point Grey: David Eby
Vancouver-West End: Spencer Chandra Herbert
Vancouver-Quilchena: Heather McQuillan
Vernon-Monashee: Harwinder Sandhu
Victoria-Beacon Hill: Grace Lore
Victoria-Swan Lake: Rob Fleming
West Vancouver-Capilano: Amelia Hill
West Vancouver-Sea to Sky: Keith Murdoch
Prefer to vote in-person?
Advance polls will be open Thursday, October 15 to Wednesday October 21 from 8:00am to 8:00pm local time. For more information about advance voting, visit the Elections BC website.