"You have my respect forever": Your messages to Carole James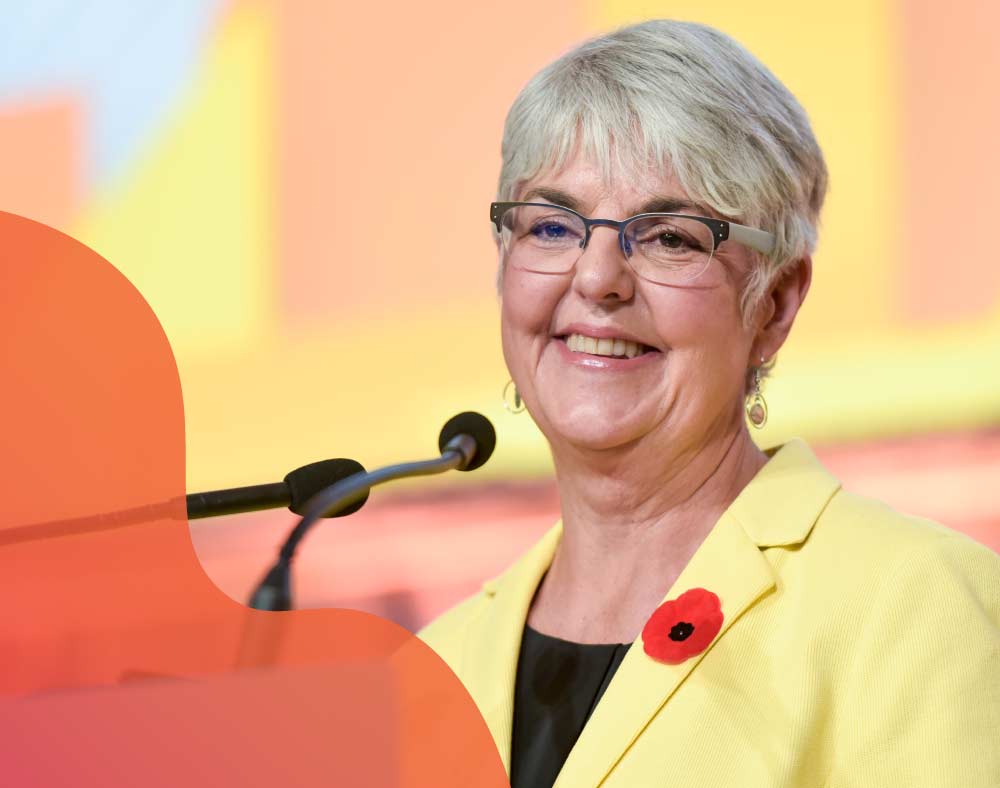 A few weeks ago, we put out a call asking for folks to share their messages with Carole James upon her retirement from public office.
These kind of asks often generate some remarkable messages — you sent more than 3,000 to essential workers earlier this year — but we weren't prepared for just how much you all appreciate Carole and the incredible work she's done for British Columbia over the last 30 years.
In the end, more than 7,800 people sent messages to Carole.
That's an incredible number — just slightly less than the number of folks who live in Summerland — but Carole's a pretty incredible human being and she deserves every word of praise you gave.
But, don't take our word for it. Take yours.
Suzanne from Vancouver says that Carole models female power at its very best:
"Carol, you have been an inspiration to me for so many years. You epitomize brilliant leadership, grace, wisdom, resilience and courage, and a commitment to relentlessly taking the high road in service of making the world better. Thank you, thank you for all you have done, and continue to do, to make British Columbia the envy of the world. And thank you for modelling female power at its very best."
Pam from Delta agreed:
"You have given a lifetime of courage, work and heart to making things better for the ordinary people of British Columbia. And you have done it with kindness and determination. You have demonstrated how to be effective by being clear, plainspoken, and doing the homework with a focus on making life better for ordinary people. Thank you."
Stephen and Margaret from Duncan were grateful for Carole's openness about her challenges with Parkinson's disease:
"The openness with which you have shared your health challenges have shown how such issues can be met with grace, courage and hope. Please accept our best wishes for your life moving forward into new challenges and joys."
Anita from Victoria has followed Carole's journey in politics since 1987:
"Soon after I came to Canada in 1987, I started to follow BC politics. As soon as I could vote after becoming a Canadian citizen in 2003, my interest increased even more - and I learned to admire your work on the School Board, later within your party and then in cabinet! To me, you are the very best of politician: dedicated to the cause in point, to public service, to maintaining a very high moral ground in politics. You are a great role model for women, for minorities, and for people diagnosed with a severe chronic illness. Thank you, and keep fighting!"
Joyce from Richmond is another longtime Carole James fan:
"I first met you when I was in high school, at an event in Richmond. Though I don't know you well, I know you have been working hard for British Columbians like myself, and especially during this past year. Thank you for all you've done and I'm sure, will continue to do. I hope your pink gloves will be well used, and I wish you the best for your health and all the moments still ahead of you!"
Many of Carole's BC NDP colleagues sent messages, too.
Harry Bains thanked her for "showing us how to do politics with honesty, integrity and selflessness."
Sheila Malcolmson remarked that "your big-hearted work has forever changed our movement. I would not be in this work without you."
Mitzi Dean agreed, saying "you have changed the course of the history of this province."
As Finance Minister in John Horgan's government, Carole James made the largest-ever investment in childcare in BC's history, helping thousands of BC families get the care they needed.
Lynne from Summerland had plenty of praise for Carole's work for parents and kids:
"As a single Mom raising two sons, I appreciated your efforts on behalf of everyone in B.C. I will always remember the day you exited the campaign bus in downtown Penticton. We were SO excited to see you and were amazed that you had any energy left by then. But you did and you inspired us to keep trying."
For people like Syed from Surrey, Carole was a "beacon of light and aspiration":
"Your services and dedication to our beloved party are phenomenal and will linger in our memories. As you retire I have all the best wishes for your happiness, health, prosperity and a peaceful and enjoyable life. Stay safe and well."
As the first MLA of Metis descent in the BC Legislature, Carole James proudly shared her heritage.
That significance wasn't lost on Sasha from North Vancouver:
"You have been a long-term inspiration and Metis role model to me. Thank you for all of your dedication to our beautiful province. You remain in our thoughts and prayers. May the Creator watch over you, and may you find yourself surrounded by much love, truth and beauty always."
In a year that's been so challenging in so many ways, these messages were a beacon of light.
And while we could fill the rest of the day sharing your messages with Carole (and trust us, we'd love to do just that), we'll leave you with our absolute favourite from all 7,800+ you sent.
"I just want to wish my wife Carole James a huge congratulations. Being by her side these last 18 years has been remarkable. Time and time again I've seen her strengths and the real change that's happening in British Columbia. As the first women leader of BC NDP, I recall how she was asked by members of the opposite sex, "are you tough enough" how do you answer a question like that? Well like eliminating the corporate and union donations, among so many other changes she's been able to make. Congratulations and I know there will be more adventures to come." - Albert from Victoria
Thank you Carole, for everything, forever.